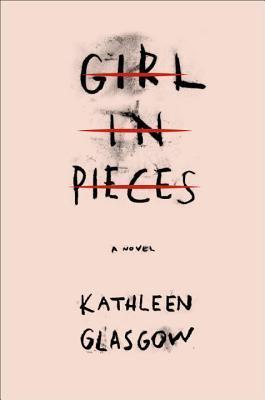 Girl in Pieces
by Kathleen Glasgow
Publication Date: August 30, 2016.
405 Pages
(Review of an ARC)
"Charlotte Davis is in pieces. At seventeen she's already lost more than most people lose in a lifetime. But she's learned how to forget. The thick glass of a mason jar cuts deep, and the pain washes away the sorrow until there is nothing but calm. You don't have to think about your father and the river. Your best friend, who is gone forever. Or your mother, who has nothing left to give you.
Every new scar hardens Charlie's heart just a little more, yet it still hurts so much. It hurts enough to not care anymore, which is sometimes what has to happen before you can find your way back from the edge."

I had the honor, of receiving an ARC of this book. I was really intrigued by the topic this book touches. I have not read much of it, and I was pretty nervous and excited. My excitement died a little, when I read that this is a book for fans of "Thirteen Reasons Why", because that book was not so good for me. (It wasn't bad, but it didn't give me any "feels".) But that did not stop me from reading it, which by the way, I am very glad I did!
The novel begins with Charlie (Charlotte) in a mental health facility. We see the horrors and struggles of self-harming, not just for Charlotte, but for other girls. Sadly, for lack of insurance coverage (and money), Charlie is released and has to go out into the world of adulthood on her own.
The story feels so raw, and you feel Charlie's pain, you want her to heal, you want her to survive, you want to comfort her and do anything you can because in a way we all are Charlie… we have all struggled, and we have all felt pain. Some more than others… and Charlie certainly has had a rough life.
All of the characters feel real, and oh my God, don't get me started on Riley! I hated this guy so much! From the moment his character is introduced I hated him. I didn't want him to be a cliché, I was praying the author knew better, and she didn't disappoint.
"People should know about us. Girls who write their pain on their bodies."
This book isn't rainbows and butterflies, this book is REAL. And you know what? We meet a-holes in our life, we might even fall for one and do stupid sh*t for "love". I wanted Charlie so bad to see the mess she was getting into, I wanted her to see her value and see that she does not need a guy to love her, for her to feel alive.
This is a book about self-harm, about survival, about how we deal with our scars both physical and emotional, about how thin the line between recovery and destruction is. This is a book about embracing yourself, about not letting your past define you, about writing (or in Charlie's case, drawing) a new story for yourself.
I was truly amazed by how much this book made me feel… At first, I didn't enjoy that the chapters were very short, but they flowed nicely. The book felt very depressing at first, I felt like I got hit with too many bad bricks of information at once. But I AM SO GLAD I READ THIS OK? Everyone needs to read this. No, not just the people who feel damaged, not just the people who self-harm or have self-harmed in the past, no… this book needs to be read by EVERYBODY.
"It's not always sunshines and roses over here, and sometimes the dark can get pretty dark, but it's filled with people who understand, and just enough laughter to soften the edges and get you through to the next day."

– Kathleen Glasgow
(From the Author's Note)
Overall, I enjoyed this book a lot. It made me feel like shit at times, and I couldn't keep reading so I just had to pause and resume a couple of hours later. It's amazing how much one can feel from just reading.
Rating: ✮✮✮✮✮
(4.5 stars)
Kathleen Glasgow's debut novel -Girl in Pieces- comes out on August 30!