September means changing summer days for days full of homework, am I right? But no worries, YA books to the rescue!
Halloween is next month, but who says we can't have a little Christmas first? Honestly, we need a month like this to ease up the pain of summer ending and going back to school. How can one be so sad when so many amazing books are coming out?
Yeah, you might be drowning in some homework already, but take some time to check out and read these upcoming hot YA releases!
Here are the top 10 September book releases!
As… well.. my personal opinion and what I've seen through bookstagram.
* These are placed by release date, not by popularity.
1. Tales of the Peculiar – September 3, 2016.
"Before Miss Peregrine gave them a home, the story of peculiars was written in the Tales. "

Wealthy cannibals who dine on the discarded limbs of peculiars. A fork-tongued princess. These are but a few of the truly brilliant stories in Tales of the Peculiar—the collection of fairy tales known to hide information about the peculiar world, including clues to the locations of time loops—first introduced by Ransom Riggs in his #1 bestselling Miss Peregrine's Peculiar Children series.
We have a GORGEOUS hardcover of stories of original stories about many peculiar secrets from this peculiar world. Ok, I'll stop using the word "peculiar". It has gorgeous illustrations by Andrew Davidson and 192 of peculiar awesomeness. (I did it again, sorry!)
2. Empire of Storms – September 6, 2016.
The long path to the throne has only just begun for Aelin Galathynius. Loyalties have been broken and bought, friends have been lost and gained, and those who possess magic find themselves at odds with those don't.

As the kingdoms of Erilea fracture around her, enemies must become allies if Aelin is to keep those she loves from falling to the dark forces poised to claim her world. With war looming on all horizons, the only chance for salvation lies in a desperate quest that may mark the end of everything Aelin holds dear.
Ok, no doubt this is THE BOOK of the month! Maybe even of the year! Ok, not the year, I seriously believe that The Cursed Child took that prize haha. I feel really bad because I have not read this series, but it is on top of my tbr before the year ends!
3. Labyrinth Lost  – September 13, 2016.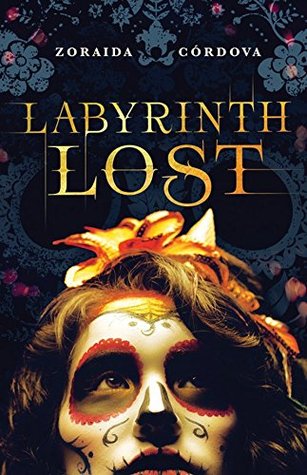 Nothing says Happy Birthday like summoning the spirits of your dead relatives.

Alex is a bruja, the most powerful witch in a generation…and she hates magic. At her Deathday celebration, Alex performs a spell to rid herself of her power. But it backfires. Her whole family vanishes into thin air, leaving her alone with Nova, a brujo boy she can't trust. A boy whose intentions are as dark as the strange marks on his skin.

The only way to get her family back is to travel with Nova to Los Lagos, a land in-between, as dark as Limbo and as strange as Wonderland…
Okay, I have not read anything by this author, but this book sounds AMAZING! And the cover is gorgeous! I definitely added this to my Amazon wishlist.
4. Three Dark Crowns  – September 20, 2016.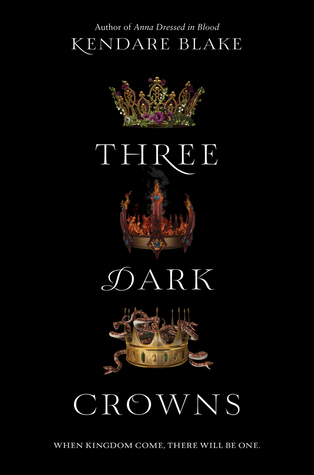 Every generation on the island of Fennbirn, a set of triplets is born: three queens, all equal heirs to the crown and each possessor of a coveted magic. Mirabella is a fierce elemental, able to spark hungry flames or vicious storms at the snap of her fingers. Katharine is a poisoner, one who can ingest the deadliest poisons without so much as a stomachache. Arsinoe, a naturalist, is said to have the ability to bloom the reddest rose and control the fiercest of lions.

But becoming the Queen Crowned isn't solely a matter of royal birth. Each sister has to fight for it. And it's not just a game of win or lose…it's life or death. The night the sisters turn sixteen, the battle begins. The last queen standing gets the crown.
Let me start by saying, that I LOVE everything by Kendare Blake, and I tried to get my hands on an arc of this book and miserably failed. This book sounds like some intense Game of Thrones sh*t between sisters and I love it! It's on my Amazon wishlist too.
5. Stealing Snow  – September 20, 2016.
Seventeen-year-old Snow has spent the majority of her life within the walls of the Whittaker Institute, a high security mental hospital in upstate New York. Deep down, she knows she's not crazy and doesn't belong there. When she meets a mysterious, handsome new orderly and dreams about a strange twisted tree she realizes she must escape and figure out who she really is.

This breathtaking first volume begins the story of how Snow becomes a villain, a queen, and ultimately a hero.
I am not a fan of this cover, but I love fairytale retellings and I could not pass up on this. It's on my Amazon wishlist, but not on my immediate purchases subfolder haha! Either way, I'M GETTING IT EVENTUALLY! *evil laugh*
6. A Shadow Bright & Burning – September 20, 2016.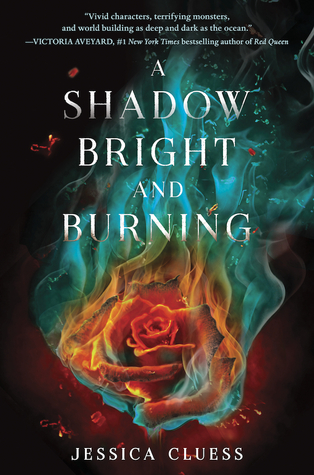 Henrietta Howel can burst into flames.

Forced to reveal her power to save a friend, she's shocked when instead of being executed, she's invited to train as one of Her Majesty's royal sorcerers.

Thrust into the glamour of Victorian London, Henrietta is declared the chosen one, the girl who will defeat the Ancients, bloodthirsty demons terrorizing humanity. She also meets her fellow sorcerer trainees, handsome young men eager to test her power and her heart. One will challenge her. One will fight for her. One will betray her.

But Henrietta Howel is not the chosen one.
As she plays a dangerous game of deception, she discovers that the sorcerers have their own secrets to protect. With battle looming, what does it mean to not be the one? And how much will she risk to save the city—and the one she loves?
My wallet is the only thing that will be burning because of all these releases, seriously… another SEPTEMBER 20 RELEASE?!? I tried to acquire an eARC through Netgalley, but failed miserably. So… here's another book I'd like to purchase.It sounds intense and I love that she is "not the chose one" it intrigues me, since we usually read books about the chosen one.
7. The Fever Code – September 27, 2016.
Once there was a world's end.

The forests burned, the lakes and rivers dried up, and the oceans swelled.

Then came a plague, and fever spread across the globe. Families died, violence reigned, and man killed man.

Next came WICKED, who were looking for an answer. And then they found the perfect boy.

The boy's name was Thomas, and Thomas built a maze.

Now there are secrets.

There are lies.

And there are loyalties history could never have foreseen.

This is the story of that boy, Thomas, and how he built a maze that only he could tear down.

All will be revealed.

A prequel to the worldwide Maze Runner phenomenon, The Fever Code is the book that holds all the answers. How did WICKED find the Gladers? Who are Group B? And what side are Thomas and Teresa really on? Lies will be exposed. Secrets will be uncovered. Loyalties will be proven. Fans will never see the truth coming.
So… The Maze Runner is still a thing? JUST KIDDING! It is! I have not read the last book in this series, but I'm sure I'll eventually get to it and might even want this book.
8. Bright Smoke, Cold Fire – September 27, 2016.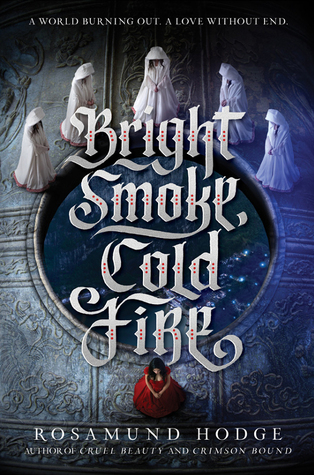 When the mysterious fog of the Ruining crept over the world, the living died and the dead rose. Only the walled city of Viyara was left untouched.

The heirs of the city's most powerful—and warring—families, Mahyanai Romeo and Juliet Catresou share a love deeper than duty, honor, even life itself. But the magic laid on Juliet at birth compels her to punish the enemies of her clan—and Romeo has just killed her cousin Tybalt. Which means he must die.

Paris Catresou has always wanted to serve his family by guarding Juliet. But when his ward tries to escape her fate, magic goes terribly wrong—killing her and leaving Paris bound to Romeo. If he wants to discover the truth of what happened, Paris must delve deep into the city, ally with his worst enemy . . . and perhaps turn against his own clan.

Mahyanai Runajo just wants to protect her city—but she's the only one who believes it's in peril. In her desperate hunt for information, she accidentally pulls Juliet from the mouth of death—and finds herself bound to the bitter, angry girl. Runajo quickly discovers Juliet might be the one person who can help her recover the secret to saving Viyara.
Is this a Romeo and Juliet retelling? I can't tell… because of the character's names…. I'm confused. OK BUT IT'S A FREAKING FANTASY RETELLING I THINK I MIGHT NEED THIS GUYS! *stops screaming* It's different, I want it. I LOVE IT!
9. Like a River Glorious – September 27, 2016.
After a harrowing journey across the country, Leah Westfall and her friends have finally arrived in California and are ready to make their fortunes in the Gold Rush. Lee has a special advantage over the other new arrivals in California—she has the ability to sense gold, a secret known only by her handsome best friend Jefferson and her murdering uncle Hiram.

Lee and her friends have the chance to be the most prosperous settlers in California, but Hiram hasn't given up trying to control Lee and her power. Sabotage and kidnapping are the least of what he'll do to make sure Lee is his own. His mine is the deepest and darkest in the territory, and there Lee learns the full extent of her magical gift, the worst of her uncle, and the true strength of her friendships. To save everyone, she vows to destroy her uncle and the empire he is building—even at the cost of her own freedom.
I don't really have anything to say about this book, except that the cover is GORGEOUS! I don't really have any knowledge of this author's books except staring at the covers for a really long time every time I see one on Instagram.
10. Crooked Kingdom – September 27, 2016.

Kaz Brekker and his crew have just pulled off a heist so daring even they didn't think they'd survive. But instead of divvying up a fat
reward, they're right back to fighting for their lives. Double-crossed and left crippled by the kidnapping of a valuable team member, the crew is low on resources, allies, and hope. As powerful forces from around the world descend on Ketterdam to root out the secrets of the dangerous drug known as jurda parem, old rivals and new enemies emerge to challenge Kaz's cunning and test the team's fragile loyalties. A war will be waged on the city's dark and twisting streets―a battle for revenge and redemption that will decide the fate of magic in the Grisha world.
From all the books on this list, THIS is the only one I've actually pre-ordered. I actually just bought the duology set because these books are gorgeous and I keep reading so many amazing things about Six of Crows, that it is freaking time I read it for myself!
You've reached the end of this amazing book-xmas list of books for the month of September!
Did your most anticipated read made the cut? If not, what is YOUR most anticipated book for this month?