Hello guys! Today I'm going to talk about the book Life As We Knew It, the very first book in the "Last Survivors" series, written by Susan Beth Pfeffer.
Last month I went on a cruise (my very first cruise!) and of course, I had to take a book with me! I chose this book because my boyfriend gifted me this series for valentines day and well… it's been sitting there waiting for me to give it some love.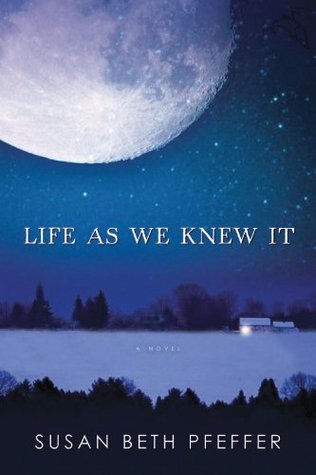 Life As We Knew It (Last Survivors, #1)
by Susan Beth Pfeffer
337 Pages
Published: October 1st, 2006.
Goodreads rating: 3.89 stars (93,202 Ratings)
My Rating: ⋆ ⋆ ⋆ ⋆ ⋆

"Miranda's disbelief turns to fear in a split second when a meteor knocks the moon closer to the earth. How should her family prepare for the future when worldwide tsunamis wipe out the coasts, earthquakes rock the continents, and volcanic ash blocks out the sun? As summer turns to Arctic winter, Miranda, her two brothers, and their mother retreat to the unexpected safe haven of their sunroom, where they subsist on stockpiled food and limited water in the warmth of a wood-burning stove.

Told in journal entries, this is the heart-pounding story of Miranda's struggle to hold on to the most important resource of all–hope–in an increasingly desperate and unfamiliar world."
From the description, we can tell this book has some dystopian vibes. We're not seeing the future or stuff like that, but the world IS ENDING! This book made me feel paranoid, I can't even begin to explain the fear I felt because THIS COULD HAPPEN!
Miranda is the owner of the diary we are reading through this book. We are seeing how a meteor moves the Moon closer to Earth, which causes many climatic changes to happen and messes up life as we knew it (See what I did there?)
At the beginning of the book, we see a 16 year old, with the usual teenager problems. Friendships breaking up, "boy problems", school work, etc… but we see her grow so much! Not only her, but all of the characters! This book has amazing character development, we see how humans are so fragile, how we depend on so many things that could be taken away by nature at any second. It's scary.
This book kept messing with my head, and that is why I couldn't put it down. I read this during my vacation (in between "free" times) and honestly, if I was reading this at home, I would have finished it in one sitting. It is THAT good.
5/5 No doubt.
Would love to pick up the next book in the series ASAP, but I don't think I want to feel this again for a while… it was good, but it's scary good. I need some time to pass this book-hangover. (Also, I might not be ready to read the next book and be disappointed if it's not as good as this one.)
Thank god I truly loved this book! Because I would have felt terrible if I hated a book that my boyfriend thought would be perfect for me, so hurray! We both win! (Haha!)
*On a more related note: He listened to the audio book and gave it 3/5 stars, but audio books ratings are different… of course we focus more on the voices and stuff like that, which is what he disliked. So, just pick up the actual book, and you will not regret it!