Hello guys! Today I'll be talking a little about the super hyped book "Six of Crows".
After hearing a million amazing reviews about this book, I had to pre-order the box set and give it a try myself!
I received my set at the beginning of month and started reading Six of Crows as soon as possible; and SPOILER ALERT, it lives up to the hype!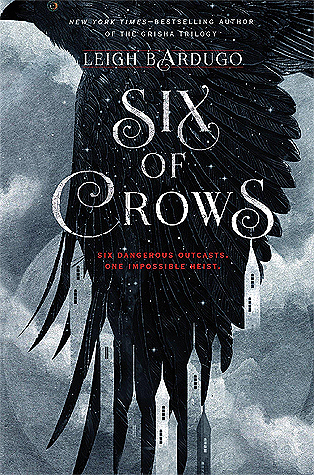 Six of Crows
by Leigh Bardugo
465 Pages
Published: September 29, 2015.
Goodreads Rating: 4.44 Stars (52,495 Ratings)
My Rating: 4.5 Stars
"Ketterdam: a bustling hub of international trade where anything can be had for the right price—and no one knows that better than criminal prodigy Kaz Brekker. Kaz is offered a chance at a deadly heist that could make him rich beyond his wildest dreams. But he can't pull it off alone…

A convict with a thirst for revenge.
A sharpshooter who can't walk away from a wager.
A runaway with a privileged past.
A spy known as the Wraith.
A Heartrender using her magic to survive the slums.
A thief with a gift for unlikely escapes.

Kaz's crew are the only ones who might stand between the world and destruction—if they don't kill each other first."
If I tell you that this book has SIX main characters, you would think that it would be very confusing to keep track and understand what is going on with so many people; but let me tell you, I had NO problem keeping up with this story!
The book is written in third person, which allows us to see every character being just as important to the story (and trust me, they are!). If another author attempts this kind of magical writing, it would probably turn out to be a mess. This is a fast, intense, and truly amazing book that no other author can pull off!
Now, why would I give it 4.5 stars instead of 5 if it was so good? Well, this might be my fault, since I have not read the Grisha trilogy, but there were many terms that I did not understand at first and I had to Google or keep on reading confused until the book told me what it meant. I'm the type of reader that wants to know what every little detail means, so I can feel like I am absorbing as much as possible from the story, and during those first 4-5 chapters, I did not feel that way.
This is not entirely a flaw of the book, but more a flaw in me for reading this before even trying to explore the Grishaverse! But then again, if this book is completely different from the Grisha trilogy, it shouldn't be so confusing at first for someone new to this universe.
My favorite quote from the book:
"Kaz leaned back. "What's the easiest way to steal a man's wallet?"
"Knife to the throat?" asked Inej.
"Gun to the back?" said Jesper.
"Poison in his cup?" suggested Nina.
"You're all horrible," said Matthias."
I'm picking this quote, not because it is wise (although what Kaz tells us later, is kinda wise…), but because we can see a little of each of the characters in their responses. We can see the way they think and the way they would act in the same situation.
The characters are unique, flawed, and funny in their own ways. Their chemistry is AMAZING! I love that we see each of their backgrounds, not just 1 or 2. We learn about all of them equally.Kaz is the perfect anti-hero, Jesper is that strong male character that will definitely surprise you *wink*, while Inej and Nina show us amazing kick-ass girl power! We have a bit of romance going on in this book, but it's not something big and it doesn't take away from the story, it actually adds the perfect amount to keep us in balance with the world and see how it influences the decisions these characters make.
With all of that being said; I can't wait to pick up Crooked Kingdom!
Six of Crows may not have been as amazing as I expected (Don't get me wrong, I just had REALLY HIGH expectations!), but it does live up to its hype and I will definitely keep on reading, because I enjoyed it very much. I would also love to read the Grisha trilogy and then re-read this book, because I'm sure I will appreciate it even more after that!
Thanks for reading my review!
Until next time…