Hi peeps! Today I'm sharing my review for "Three Dark Crowns" by Kendare Blake along with our book club Q&A with the author! This book was chosen as our first book club read for @Socialbookclub and I couldn't be happier with our first choice!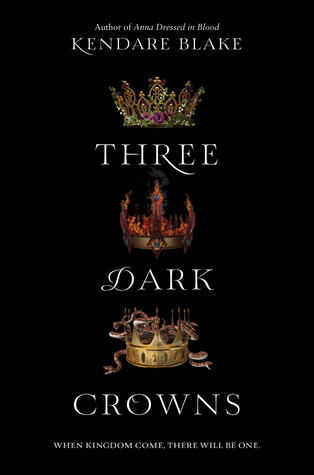 Three Dark Crowns (Three Dark Crowns #1)
by Kendare Blake
398 Pages
Published: September 20, 2016.
Goodreads rating: 3.83 stars (5,256 Ratings)
My Rating: 3.9 stars (⋆ ⋆ ⋆ ⋆ )
"In every generation on the island of Fennbirn, a set of triplets is born—three queens, all equal heirs to the crown and each possessor of a coveted magic. Mirabella is a fierce elemental, able to spark hungry flames or vicious storms at the snap of her fingers. Katharine is a poisoner, one who can ingest the deadliest poisons without so much as a stomachache. Arsinoe, a naturalist, is said to have the ability to bloom the reddest rose and control the fiercest of lions.

But becoming the Queen Crowned isn't solely a matter of royal birth. Each sister has to fight for it. And it's not just a game of win or lose…it's life or death. The night the sisters turn sixteen, the battle begins.

The last queen standing gets the crown. "
This book has some serious Game of Thrones vibes, which is what initially caught my attention. Just look at the rhymes on the first page!
"Three dark queens
Are born in a glen,
Sweet little triplets
Will never be friends
Three dark sisters
All fair to be seen,
Two to devour
And one to be Queen"
The story begins with the land of Beltane approaching its Ascension Year; this is when the queens will display their powers and the "fight" for the crown begins.
Going back a little… the triplets were separated when they were 6 years old. Each one is being raised by different families, according to their respective gifts, meaning that each queen has grown up in very different households!
A little about our three queens:
Katharine the Poisoner – As a Poisoner, she should have the ability to consume poison without side-effects, but sadly, her power is weak.
Arsinoe the Naturalist – Her power has not developed at all, even though she's surrounded by a lot of strong characters, that have supported her all her life.
Mirabella the Elemental – She's the strongest sister, when it comes to her powers. She has power over elements like water, fire, and wind; but she's emotionally weak and has no desire for spilling blood.
This book is very complex, and while the author pulled it off nicely, it definitely could have been better. The book is FULL of secondary characters, and I wish we could have learned more about them because there truly are too many and little history behind them. Also, I wish we could know more of how this kingdom is being led, the black council, etc… I mean, they haven't had an actual ruler – queen – since the triplets were born, what kind of system is that?!
Before reading this book, I kept reading reviews about how slow it is, and a lot of people who actually did not finish this book! While it is true that it starts slow, it definitely picks up and has an AMAZING finish! (Just between us… I feel sorry for those who did not finish this book, they missed out on A LOT!)
It's hard to root for just one queen, specially when you "know" that two will die! I don't know what Kendare Blake will do in the next book, but I am definitely excited to see how it all ends!
Now, as part of our book club activities on @Socialbookclub, we had the honor of having a Q&A with author Kendare Blake!
Q1. How long have you been writing, and what inspired you to begin?
A1. I've been writing since I was a kid. Like, 7th grade. But I've been writing with a serious aim to get something, ANYTHING, published since high school. Ten years later and tah dah. It only took a decade! Reading is my constant inspiration. I've always been a reader, and will always be. It still shocks me just how many people in our society do not read for pleasure. So weird, right? Why would you not read?! (Of course some of that no doubt has to do with our reading programs for young readers. We need to make reading easy and fun for them!)
Q2. How many books can we expect from this series?
A2. Well…this duo…and a couple that haven't been announced yet!
Q3. Can Mirabella or Katherine use low magic too or is this something exclusive to Arsinoe?
A3. Anyone can use low magic. The gifted and the giftless alike. You, me, a duck. Okay, probably not a duck. But that's why the temple frowns upon its use, and why they REALLY frown upon a queen using it. Like it's beneath her, and also, different from the controlled nature of the gifts. It has your will, and a will of its own.
Q4. Do you have a favorite queen? If so, which?
A4. I thought I would have a favorite, but I love everyone! Even Natalia and Luca, the High Priestess.
Q5. Since this book is based on three sisters, and a bad relationship between them, we want to know; Do you have siblings, if so, how is your relationship with them?
A5. I have a brother. No sisters. And I've never tried to kill him, even once! Of course, he didn't join the family until we were both nearly grown, so that probably helped.
Q6. How did you come up with the different societies? (Poisoners/Elementalists/Naturalists)
A6. They developed rather naturally. I knew the basics about them, and the details sort of filled in. When it came to the poisoners, I consulted many books on poisons and toxins. And I also snuck in a pop culture reference with them: Iocane powder from the Princess Bride, which is not a real poison. So there's a little easter egg for you 🙂
Q7. Outside of the books you write, what is your favorite genre to read?
A7. I read all of the genres that I write, plus I love to read historical, literary, philosophical…once a novelized dinosaur tale with the POV of the dinosaur…really I'll read anything. Never read a cozy mystery. And I don't do much hard sci fi. I generally stay away from non-fiction, but there are a few I would like to pick up. So no favorite. I read most anything.
Q8. To wrap this up, when can we expect the release of the second book in this series?
A8. The second book, ONE DARK THRONE, will be out in the fall! No official date yet, but I'm guessing Septemberish? 2017.
There you have it guys! The second book "One Dark Throne" will be out in 2017!
Thank you Ms. Kendare Blake for answering these questions for us.
Thanks to Socialbookco for sending me a copy of this book to discuss and review with our book club. If you haven't gotten yourself a copy of Three Dark Crowns, make sure you visit Socialbookco to find the lowest price HERE!