Hi everyone! As 2016 has FINALLY come to an end, a lot of us are checking how many books we read and choosing favorites. Which means, that it is no surprise that I've decided to make a list of my favorite books of 2016.
I'm a book lover that is always behind on new releases. I get caught up with life and I cannot find enough time to read all the amazing new books that come out! Which mean that this list is going to focus on both old and new releases.
I'll be sharing MY top 10 2016 reads, regardless of when the books were released. The books are not in any particular order, I've written them down as they came to mind, so the ones first on the list are more recent reads than the last books on the list.
I can choose my top 10 books, but I couldn't put them in order from 1 to 10. IT WAS TOO DIFFICULT! Now, let's begin!
1. Girl in Pieces by Kathleen Glasgow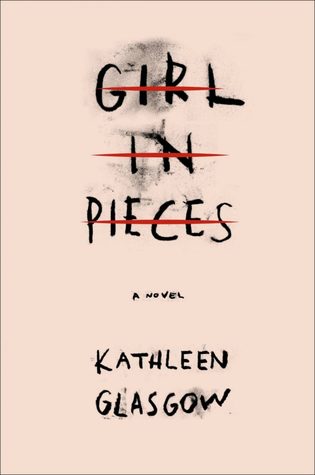 This is a VERY important book, it can trigger certain things… I felt very depressed at some points, where I just had to stop reading for a few days. But oh my God… if you can handle it, it is SO worth it. You can find my review for Girl in Pieces right here.
Charlotte Davis is in pieces. At seventeen she's already lost more than most people lose in a lifetime. But she's learned how to forget. The broken glass washes away the sorrow until there is nothing but calm. You don't have to think about your father and the river. Your best friend, who is gone forever. Or your mother, who has nothing left to give you.

Every new scar hardens Charlie's heart just a little more, yet it still hurts so much. It hurts enough to not care anymore, which is sometimes what has to happen before you can find your way back from the edge.
2. Three Dark Crowns by Kendare Blake
This book gives me some serious Game of Throne vibes. It's about three sisters (triplets) fighting for the crown! This book has an amazing and unexpected plot twist at the end, even though it starts a bit slow, it's needed to fill in as many background info as possible. It's worth it! READ IT! If this doesn;t convice you, try checking my review for Three Dark Crowns? You can find it right here. (I also had the opportunity of having a Q&A with the author, as part of our Social Book Club activities!)
In every generation on the island of Fennbirn, a set of triplets is born—three queens, all equal heirs to the crown and each possessor of a coveted magic. Mirabella is a fierce elemental, able to spark hungry flames or vicious storms at the snap of her fingers. Katharine is a poisoner, one who can ingest the deadliest poisons without so much as a stomachache. Arsinoe, a naturalist, is said to have the ability to bloom the reddest rose and control the fiercest of lions.

But becoming the Queen Crowned isn't solely a matter of royal birth. Each sister has to fight for it. And it's not just a game of win or lose…it's life or death. The night the sisters turn sixteen, the battle begins.

The last queen standing gets the crown.
3. Kids of Appetite by David Arnold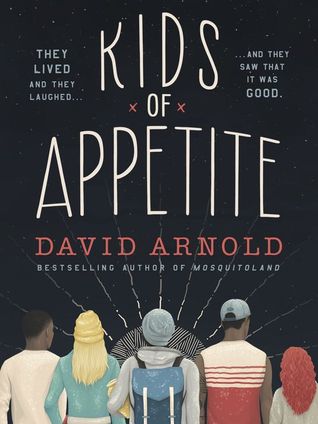 The Goodreads blurb on this book describes it better than I could, so I'm just gonna share it instead of talk about it. This is easily on my top 3 reads for the year. You can find my review of this AMAZING book right here.
This book is full of quotable and funny moments, while not losing its seriousness, and having a very diverse group of friends. It's everything I could ever want from a contemporary book!
It begins with the death of Vic's father.
It ends with the murder of Mad's uncle.
The Hackensack Police Department would very much like to hear it.
But in order to tell their story, Vic and Mad must focus on all the chapters in between.

This is a story about:

1. A coded mission to scatter ashes across New Jersey.
2. The momentous nature of the Palisades in winter.
3. One dormant submarine.
4. Two songs about flowers.
5. Being cool in the traditional sense.
6. Sunsets & ice cream & orchards & graveyards.
7. Simultaneous extreme opposites.
8. A narrow escape from a war-torn country.
9. A story collector.
10. How to listen to someone who does not talk.
11. Falling in love with a painting.
12. Falling in love with a song.
13. Falling in love.
4. Harry Potter and the Sorcerer's Stone
Harry Potter and the Goblet of Fire by J.K. Rowling

I might be cheating on this one, but I read the Harry potter series for THE FIRST TIME EVER on 2016! Like I said… I am behind on books and probably for the rest of my life!
My favorite books from the series are the first one, since we are introduced to this magical world, and the Goblet of Fire, because it is full of so many magnificent events! You can find my reactions post/review for Harry Potter and the Sorcerer's Stone right here.
5. Life As We Knew It by Susan Beth Pfeffer
I read this book because my boyfriend got it for me for Valentine's Day (he actually got me the whole series!). This book is SO GOOD! The Moon got closer to Earth, which created a lot of critical changes in the weather and it is getting closer to the end of the world! You can read my review right here.
Miranda's disbelief turns to fear in a split second when a meteor knocks the moon closer to the earth. How should her family prepare for the future when worldwide tsunamis wipe out the coasts, earthquakes rock the continents, and volcanic ash blocks out the sun? As summer turns to Arctic winter, Miranda, her two brothers, and their mother retreat to the unexpected safe haven of their sunroom, where they subsist on stockpiled food and limited water in the warmth of a wood-burning stove.

Told in journal entries, this is the heart-pounding story of Miranda's struggle to hold on to the most important resource of all–hope–in an increasingly desperate and unfamiliar world.
6. Rosehead by Ksenia Anske
This book somehow manages to be both cute and mysterious. We have a pre-teen girl with her talking dog on a Sherlock Holmes type of adventure. This book is easily on my top 3 reads of 2016! You can find my review right here.
Misunderstood and overmedicated, twelve-year-old Lilith Bloom finds the prospect of a grand family reunion decidedly dull… That is, until she discovers that the rose garden surrounding her grandfather's Berlin mansion is, well, completely and utterly carnivorous. Armed with Panther, her talking pet whippet, and the help of the mute boy next door, Lilith must unravel the secrets behind the mysterious estate, all while her family remains gloriously unaware that they are about to be devoured.
7. Eleanor & Park by Rainbow Rowell
This is the first book by Rainbow Rowell I've read, and it was amazing! Both of our main characters are "misfits" and the way their relationship develops is so darn cute! It's a lovely story without being cliché. You can find my review right here.
Two misfits.
One extraordinary love.

Eleanor… Red hair, wrong clothes. Standing behind him until he turns his head. Lying beside him until he wakes up. Making everyone else seem drabber and flatter and never good enough…Eleanor.

Park… He knows she'll love a song before he plays it for her. He laughs at her jokes before she ever gets to the punch line. There's a place on his chest, just below his throat, that makes her want to keep promises…Park.

Set over the course of one school year, this is the story of two star-crossed sixteen-year-olds—smart enough to know that first love almost never lasts, but brave and desperate enough to try.
The next three books were read by me in 2016, but this was before I created my blog, which means I don't have a review up for these titles.
8. Pierced by the Sun by Laura Esquivel
As an Amazon Prime member, you can get one of 6 free "Kindle First" book choices. I've never gotten a book from Kindle First, but I always check them out to see if anything calls me. Well… this one did! This book is VERY short… 218 went by quickly!
Lupita is such a broken character. Maybe at first you'll think she's just this innocent girl, but she ends up being so strong. I had my doubts about how this book was going to end, but I loved it so much! I love how it talks about the character's struggles, Mexico's struggles, drugs, sexual abuse, etc. and how it all comes together…
Lupita's hard-knock life has gotten the better of her time and time again. A childhood robbed of innocence set off a chain of events that she still has not managed to control, no matter how hard she tries. Every time she thinks she has a handle on things, unexpected turns make her question everything, including herself.

When Lupita witnesses the murder of a local politician whom she greatly admires, the ghosts of her past resurface as she tries to cope with the present. She quickly falls back into her old self-destructive habits and becomes a target of Mexico's corrupt political machine. As the powers that be kick into high gear to ensure the truth remains hidden, Lupita finds solace in the purity of indigenous traditions. While she learns how to live simply, like her ancestors, she comes to understand herself and rediscovers light within a dark life. And if there is hope for Lupita's redemption, perhaps there is hope for Mexico.
9. Me Before You by Jojo Moyes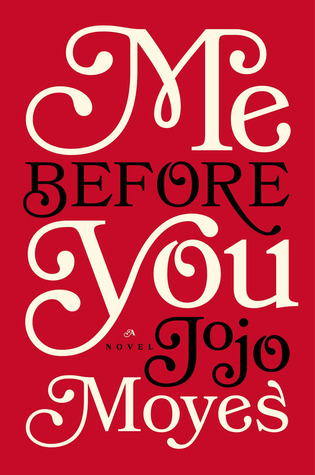 If you are looking to get your heart broken, this is the book you want to read. The movie was really great, but the book captures the relationship between the 2 main characters in a more deep way. YOU SIMPLY CANNOT PUT THEIR RELATIONSHIP IN A 1.5 – 2 HOUR MOVIE! Life isn't perfect, so don't expect the ending to be.
Louisa Clark is an ordinary girl living an exceedingly ordinary life—steady boyfriend, close family—who has barely been farther afield than their tiny village. She takes a badly needed job working for ex–Master of the Universe Will Traynor, who is wheelchair bound after an accident. Will has always lived a huge life—big deals, extreme sports, worldwide travel—and now he's pretty sure he cannot live the way he is.

Will is acerbic, moody, bossy—but Lou refuses to treat him with kid gloves, and soon his happiness means more to her than she expected. When she learns that Will has shocking plans of his own, she sets out to show him that life is still worth living.
10. Outliers (Non-Fiction)

I think I only read 2-3 Non-Fiction books this year. To be honest, I am not a person who enjoys reading non-fiction, unless the topic REALLY calls my attention.
Outliers has so many amazing topics inside one book, all about people who are … well… Outliers. There are some interesting facts and information about what has made people successful, from athletes to technology geniuses, there's something to learn.
Malcolm Gladwell takes us on an intellectual journey through the world of "outliers"–the best and the brightest, the most famous and the most successful. He asks the question: what makes high-achievers different?

His answer is that we pay too much attention to what successful people are like, and too little attention to where they are from: that is, their culture, their family, their generation, and the idiosyncratic experiences of their upbringing. Along the way he explains the secrets of software billionaires, what it takes to be a great soccer player, why Asians are good at math, and what made the Beatles the greatest rock band.
This was a great year for reading. Even though I was working full time and had to do some heavy projects, I managed to read 46 books! This is the most I've ever read in a year, and I will definitely challenge myself to pick up more books in 2017.
Did any of these books make your Top 10 List of 2016?