This book was my last read of 2016. I felt like I needed to close the year with an easy, sweet, contemporary read. I decided to pick up this book because even though I wasn't a big fan on Jennifer Niven's previous book, this one had a lot of promise.
The back of the book says:
"You are wanted." "You are necessary." "You are loved."
So that's how I expected to feel once I finished the book.
It didn't necessarily go that way, but it was a very nice book!
Let's get onto my review, shall we?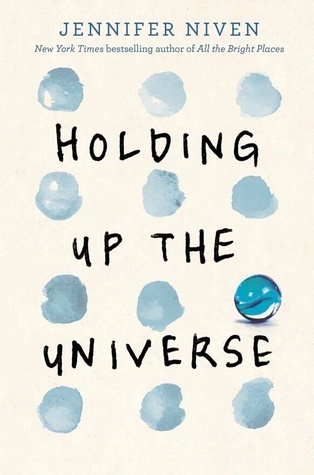 Holding Up The Universe
by Jennifer Niven
391 pages
Published: October 4th, 2016.
Goodreads Ratings: 3.97 stars (7,873 Ratings)
My Ratings: 3.9 stars (⋆⋆⋆⋆)
"Everyone thinks they know Libby Strout, the girl once dubbed "America's Fattest Teen." But no one's taken the time to look past her weight to get to know who she really is. Following her mom's death, she's been picking up the pieces in the privacy of her home, dealing with her heartbroken father and her own grief. Now, Libby's ready: for high school, for new friends, for love, and for every possibility life has to offer. In that moment, I know the part I want to play here at MVB High. I want to be the girl who can do anything.

Everyone thinks they know Jack Masselin, too. Yes, he's got swagger, but he's also mastered the impossible art of giving people what they want, of fitting in. What no one knows is that Jack has a newly acquired secret: he can't recognize faces. Even his own brothers are strangers to him. He's the guy who can re-engineer and rebuild anything, but he can't understand what's going on with the inner workings of his brain. So he tells himself to play it cool: Be charming. Be hilarious. Don't get too close to anyone.

Until he meets Libby. When the two get tangled up in a cruel high school game—which lands them in group counseling and community service—Libby and Jack are both pissed, and then surprised. Because the more time they spend together, the less alone they feel. Because sometimes when you meet someone, it changes the world, theirs and yours."
First of all, this book wasn't depressing like her previous book "All The Bright Places", and I am VERY happy about that. Like her previous book, this one is also told in two point of views.
I know this book had some criticism before being released, about the blurb. Yes, the book refers to a girl (Libby Strout) as "America's Fattest Teen", but this goes beyond a girl being fat. This is a book where a girl discovers her worth, and learns who she is beyond hurtful titles. This girl is both shy and wild! I don't know how… but she can go from keeping quiet about the bullies, to punching a boy in 3 seconds. (Girl, just be wild! Defend your honor!)
We also have Jack Masselin; who has Prosopagnosia, meaning he cannot recognize faces. The real problem here is that instead of letting people know about his disability, he has kept it a secret. He cannot recognize faces and he doesn't let people know! Instead, he goes through life trying his hardest at recognizing people by certain "markers". (I was a bit frustrated with this because… HOW COULD YOU NOT TELL THIS KIND OF INFORMATION TO ANYONE? NOT EVEN YOUR PARENTS?!)
Not so fun fact: Jack once screamed that a strange woman (his mom) was kidnapping him, because she got a haircut and he couldn't recognize her anymore.
He plays the cool guy at school, and hangs with jack-asses (which technically turns him into one) because they are easy to recognize.
The only reason I'm not giving this book 5 stars, is because the reasons why they seem to fall in love, are not convincing enough for me. The development of this relationship wasn't deep enough for me. Not to mention, the back and forth Jake has with his popular and hot evil girlfriend (who may I add, is a constant bully to Libby because of her weight) is annoying. Did we really need the evil popular girlfriend cliché?
When I was writing the previous paragraph, I almost thought of dropping the rating. But I didn't, because I other than this, I enjoyed the book VERY much. I loved how Libby grew to accept and love herself. At the beginning of the book, Libby seemed to be finding her worth by finding a guy who would love her… by the end of it, she finds her worth without needing a guy (but of course, she still cares for him). I wish I could say the same thing about Jake's growth, but honestly, I don't think he did as much as Libby. He accepts his disability, but I didn't see much beyond that.
I'm going to take a minute to talk about Jack's little brother… that kid is AMAZING AND HE NEEDS TO BE BLESSED! This kid destroys stereotypes and I'm sure he got bullied a lot, but he's so adorable and innocent. He's my favorite character, even though he's not out a lot. I LOVE YOU DUSTY!
As usual, with all of my reviews, I'm sharing my favorite quote from the book, and OH MY GOD… this quote is just perfect! (Also, it's something Jack says to Dusty aka. my favorite character.)
"People are shitty for a lot of reasons. Sometimes they're just shitty people. Sometimes people have been shitty to them and, even though they don't realize it, they take that shitty upbringing and go out into the world and treat others the same way. Sometimes they're shitty because they're afraid. Sometimes they choose to be shitty to others before others can be shitty to them. So it's like self-defensive shittiness."
I'm adding a second quote from this book, because the author brought up something really important and real. Jack is a black character, and this is something his mother tells him after he gets into trouble…
"You may not see yourself as black, and you may not think people see you as black, but it's a fact that our society treats kids of color more severely than others."
I'm not sure why she would think Jack doesn't see himself a black, but she does bring up a good point. PoC have an additional pressure in life, they can't screw up because they will be judged harder.
Even though this book is written by a white author, we can see diversity portrayed as a black boy with a disability and an overweight girl. At the end of the book, the author explains what kind of research she did regarding Prosopagnosia, and I must say… it's pretty decent.
Overall Rating: 3.9 stars