Hey guys! I recently read "We Are Still Tornadoes" as part of a read-along, and I devoured this baby in 2 sittings!
Are you looking for a fun, cute, and quick read to get you out of a reading slump?
Or maybe you just you love stories of friendships developing into more?
Either way, this book fits in perfectly!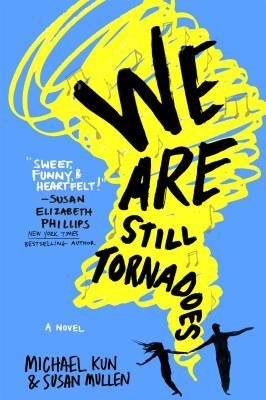 We Are Still Tornadoes
by Michael Kun & Susan Mullen
304 pages
Published: November 1st 2016
Goodreads Rating: 3.91 (516 Ratings)
My Rating: 4 stars (⋆ ⋆ ⋆ ⋆)
It's the summer of 1982, and for Scott and Cath, everything is about to change.

Growing up across the street from each other, Scott and Cath have been best friends for most of their lives. Now they've graduated high school, and Cath is off to college while Scott stays at home trying to get his band off the ground. Neither of them realized that their first year after high school would be so hard.

Fortunately, Scott and Cath still have each other, and it's through their letters that they survive heartache, annoying roommates, family dramas, and the pressure of figuring out what to do with the rest of their lives. And through it all, they realize that the only person they've ever wanted to turn to is each other. But does that mean they should think about being more than friends? One thing is clear: Change is an inescapable part of growing up, and we share unbreakable bonds with the friends who help us navigate it.
I had never heard of this book, until I received it on my December "Book Boyfriend Box", and I am so happy to have gotten it! I'll start my review by saying that this book is charming, cute, and fun!
This was a quick and enjoyable read, featuring two best friends having a "long distance friendship" in the 1980s. Cath and Scott have been near each other their whole lives. After graduating high school, Cath is off to college in Wake Forest, while Scott stays in town (Maryland).
The entirety of the book is written in letter format – as the most efficient way of communication in the 80s' – but this also leads to having some gaps in the story (which is why I gave this book 4 stars instead of 5).
I loved the friendship Cath and Scott share. They tease, listen, and support each other. They express their feelings and situations with such ease, it feels real. Their letters were full of funny moments for me, which made this book so enjoyable! Cath and Scott's personalities are different, but not "too different" to not make things work (is that understandable?).
Cath and Scott care so much about each other, and you cannot help but root for them the whole book! More than just a friendship, this book deals with family drama, relationship problems, long-distance relationships, and loss.
I must admit, the ending does feel a bit rushed… I don't want to spoil what happens but after a very important event happens, we're left with like 10 pages(?) to explore it. Which makes it feel waaay too rushed. Other than that, this book is amazing!
Overall rating: 4 stars