Hey guys! I've been very busy (and a bit lazy) to write reviews lately, but I'll do my best to catch up in the next couple of weeks. For now, I really wanted to share my review for The Bone Witch, the first book in an upcoming series that goes by the same name.
I had the opportunity of receiving an ARC of this book, thanks to Sourcebooks Fire, and I devoured this book as soon as I received it!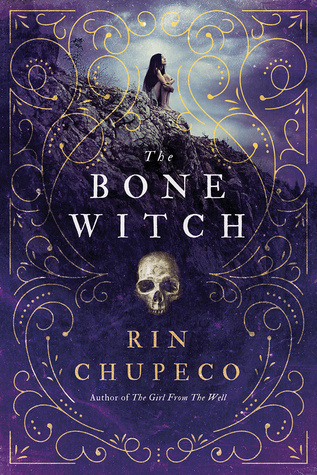 The Bone Witch
by Rin Chupeco
400 pages
Expected Publication: March 7, 2017.
Goodreads rating: 3.39 stars (593 Ratings)
My rating: 3.5 stars (⋆ ⋆ ⋆ )
"When Tea accidentally resurrects her brother from the dead, she learns she is different from the other witches in her family. Her gift for necromancy means that she's a bone witch, a title that makes her feared and ostracized by her community. But Tea finds solace and guidance with an older, wiser bone witch, who takes Tea and her brother to another land for training.

In her new home, Tea puts all her energy into becoming an asha — one who can wield elemental magic. But dark forces are approaching quickly, and in the face of danger, Tea will have to overcome her obstacles…and make a powerful choice.

Memoirs of a Geisha meets The Name of the Wind in this brilliant new fantasy series by Rin Chupeco!"
I picked up this book for two things; first… diverse author! and second… ashas sound AMAZING! They remind me of Grishas (Leigh Bardugo) but are more closer to Geishas. – I just wasn't a fan of Memoirs of a Geisha, so I will not compare this book to that. (But a lot of people found many similarities between the two.)
I read this book very quickly! It took me 3 days, which for a 400 page book, is very quick for me! I loved the first half of the book. Everything was amazing, seriously, no flaws at ALL! I loved how the world is introduced and how Tea discovers her powers. Sadly, when we get to the middle of the book, it starts to feel slow. There are long descriptions and it just felt like it was being dragged to make the book longer. If the book had managed to keep the same pace it had on the first half, this could have become my favorite fantasy book. The plot and concept of bone witches is super intriguing for me, so I can't give this a bad rating, even when it was slow at times.
Our main character, Tea, is a very powerful asha – but she doesn't know she can do magic! She discovers her powers when she raises her brother from the dead, of course, by accident. But she's not just any asha…She's a bone witch! and that's not a very good thing to be… Why you may ask? Well.. regular ashas can control the basic elements: earth, fire, water, and wind. But Bone witches are dark ashas, who are capable of commanding the dead.
In general, bone witches are not respected, even when they have a VERY important job. Their job is to defeat Daevas; a kind of demon that fades but never dies. They come back to life every X years (sorry, I don't remember if the years are actually mentioned). But yes… bone witches can destroy these demons, and if they don't do the job, WHO WILL?!?! They're so important but disliked for their connection to the dead.
Back to Tea… she discovers her true powers and is sent off with Mykaela, a powerful and ancient bone witch. Both Tea and Mykaela start traveling the kingdoms, with the company of Fox (the brother who came back from the dead). While they are traveling, Mykaela is a mentor to Tea and even introduces her to everyone as her apprentice. But once they reach their desired destination well… this is where the book turns boring.
Tea is taken to some sort of "school" for the ashas. Where she will learn to be a bone witch, and also a "normal asha". Ashas are woman fighters who pretty much double as Geishas (I promised I wouldn't make a Geisha comparison but this is the best fit…). SOOOO… when Tea is taken here and spends a couple of years learning to be an asha, the plot of the book literally turns into Tea taking classes and learning to be a proper asha. We have a big chunk of the second half of the book in this… but once we get out of it (close to the ending) the book regains it's pace.
While the second half of the book was slow, for me, it did have some interesting things going on – even though they're not part of the plot persé. We have a boy who wants to be an asha (yes, ashas are only ladies). We have a dead-but-living brother who is so protective and nice towards his sister. Seriously, the relationship Fox and Tea have is weird, but in a nice way. We also have a prince who's actually nice?!?! aaaaand we have a heart forger who uses memories to create hearts.
This story is very original, and like I said, I love the concept of "Bone Witches"! I really wish the pace of the book hadn't slowed down after hitting the 50% mark. Regardless of that, I'd love to pick up the next book!
Overall rating: 3.5 stars