Hi guys! I don't tend to read on my kindle, because I have a cheap-ish Kindle Fire and the glare on it is just terrible for my eye sight, buuuuuut… when I got accepted a NetGalley eARC of "10 Things I Can See From Here" I HAD to make the sacrifice!
I'm 100% in for reading diverse books, and this one called my attention for many reasons… the top one being that the main character suffers anxiety, just like me.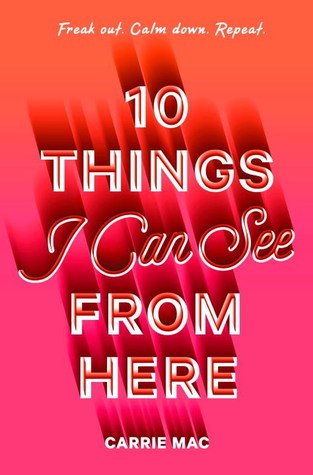 10 Things I Can See From Here
by Carrie Mac
320 pages
Published: February 28, 2017.
Goodreads Rating: 3.66 stars (237 Ratings)
My Rating: 4 stars (⋆ ⋆ ⋆ ⋆)
Perfect for fans of Finding Audrey and Everything, Everything, this is the poignant and uplifting story of Maeve, who is dealing with anxiety while falling in love with a girl who is not afraid of anything.

Think positive.
Don't worry; be happy.
Keep calm and carry on.

Maeve has heard it all before. She's been struggling with severe anxiety for a long time, and as much as she wishes it was something she could just talk herself out of, it's not. She constantly imagines the worst, composes obituaries in her head, and is always ready for things to fall apart. To add to her troubles, her mom—the only one who really gets what Maeve goes through—is leaving for six months, so Maeve will be sent to live with her dad in Vancouver.

Vancouver brings a slew of new worries, but Maeve finds brief moments of calm (as well as even more worries) with Salix, a local girl who doesn't seem to worry about anything. Between her dad's wavering sobriety, her very pregnant stepmom insisting on a home birth, and her bumbling courtship with Salix, this summer brings more catastrophes than even Maeve could have foreseen. Will she be able to navigate through all the chaos to be there for the people she loves?
The first thing I love about this book, is LITERALLY the first page. It's titled "Stupid Things People Say" and it's a list of things people with anxiety are tired of hearing, like; "You are not your anxiety.", "It doesn't matter", "Don't exaggerate", "Just put it out of your mind.", "Why get upset about something so small?"… and maaaaany more.
The second thing I love is the way the chapters are written. The way the story flows makes it easy to follow and jumps from one situation to another without leaving you lost or in the air.
The third thing I love about this book is that, the development of the romance (a f/f romance!), doesn't take away from the story. Maeve is a girl that suffers from anxiety, and her issues aren't magically fixed by being in a relationship. (Seriously, we all know that mental issues don't get fixed by meeting "the one" or by being in a relationship.) I'm glad that while being in a relationship does help Maeve see certain things more clear, it is not a magical cure for anxiety.
Maeve's anxiety makes her overthink A LOT, and she will get super nervous and find ways to get discouraged to do things. Her anxiety makes her look for all the little details and reasons why something can go wrong, OH and she will find facts to prove it. THAT. IS. ME. *sigh* While I consider this book to be a quick read, I didn't read it as fast as I expected… Maeve was constantly giving us death facts and statistics and it made ME anxious! (Talk about getting into a book! But really… this book has some alarming statistics.)
The family situations in this book are deep. I love YA books that give meaning to the family, let it be a good relationship or a bad relationship, I believe the family should also be portrayed. With a mother that's away (on Haiti with her new boyfriend), a dad with drug problems, and a step mom that's close to losing her marriage, Maeve's family plays a big role in her development (and her anxiety).
I won't get into details of how things go, but I'll break it down simple; Since the beginning of the book, Maeve is 100% open about her sexuality, so you will not see a coming out story in this book, but you will find a story about a girl with anxiety falling in love, and dealing with many new things and family problems…
Overall, it's a light and great story. I would recommend it to anyone looking for good anxity/mental health rep. and/or a sweet female-female romance.