Hey guys! I'm slowly catching up on writing reviews for all the books I've been reading in 2017! I'm reading twice as fast this year, than previous years, so it will definitely take me a while to really catch up, but I'll keep the reviews coming!
In March I had the pleasure to read "Caraval" with Social Book Club, and it was a really fun experience!
* Thanks to Socialbookco.com for sending me a copy for the read-along and for review purposes.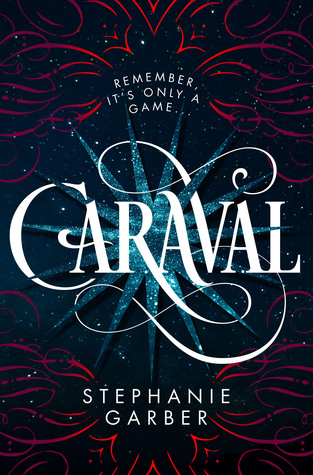 Caraval
by Stephanie Garber
407 pages
Published: January 31st, 2017.
Goodreads Rating: 4.02 stars (21,172 Ratings)
My rating: 3.75 stars (⋆ ⋆ ⋆ ⋆)
"Remember, it's only a game…

Scarlett Dragna has never left the tiny island where she and her sister, Tella, live with their powerful, and cruel, father. Now Scarlett's father has arranged a marriage for her, and Scarlett thinks her dreams of seeing Caraval—the faraway, once-a-year performance where the audience participates in the show—are over.

But this year, Scarlett's long-dreamt-of invitation finally arrives. With the help of a mysterious sailor, Tella whisks Scarlett away to the show. Only, as soon as they arrive, Tella is kidnapped by Caraval's mastermind organizer, Legend. It turns out that this season's Caraval revolves around Tella, and whoever finds her first is the winner.

Scarlett has been told that everything that happens during Caraval is only an elaborate performance. Nevertheless she becomes enmeshed in a game of love, heartbreak, and magic. And whether Caraval is real or not, Scarlett must find Tella before the five nights of the game are over or a dangerous domino effect of consequences will be set off, and her beloved sister will disappear forever.

Welcome, welcome to Caraval…beware of getting swept too far away."
I loved and hated this book.
Yes. I'm starting my review with that sentence. I love-hate this book in a weird way that had me FREAKING HOOKED! The main character is really annoying, but the whole concept of Caraval, the competition, and everything that was going on was so fun for me, that I just ignored Scarlett (lol). She kept repeating over and over and over AND OVER that she had to get out of Caraval to get married and I really wanted to smack her. 
Scarlett has been writing to Master Legend every since she was a little kid. She wanted him to bring Caraval to their town, she tried for many many maaaany years… UNTIL one day he finally replies and sends her tickets for Caraval. The book starts really rough. Scarlett and Donatella are sisters that have very different ways of seeing life, but they both have one thing in common; they want to leave their house to escape their abusive father. It was very difficult for me to get through those first chapters (it's personal) but I hated the father through ALL the book, and it really caught me off guard how abusive he is, since nobody mentioned it to me before picking up the book. So use this paragraph as a trigger warning for abuse at the beginning (and a little through the book) of Caraval.
Now, why did I give this book almost 4 stars if I hated the main character and her abusive father? Well… Caraval is a five-night game, full of magic, trickery, and cleverness! Some would call Caraval a competition, since there is only one winner, but I see it more as a place where many just go to have fun and live the experience. I'm not going into details because I don't want to spoil anything about the place, BUT IT IS AWESOME! The book had me the whole time trying to guess what was going to happen next, who's good, who's bad, what's real and what is Scarlett FREAKIN' DOING (because she seriously had me pissed off a lot LOL).
We got Julian, who turns out to be more than a round-trip ticket to Caraval. I was skeptical about this guy the whole book, but his character is fun, and meaningful to the story; he's way more than a love interest. His character goes through a couple of transformations, just when you think you got him figured out CARAVAL DOES SOMETHING AND YOU'RE LIKE WHAAAAAAAAAAT?! So yes, I never found myself trusting him. I don't care what anyone else says lol.
I picked up Caraval expecting a Carnival / Circus setting, but I feel like what we got was even better. Caraval is a place where reality and magic get mixed, a place where people have to pay for items with their secrets or even with days of their life! It's a place where many end up dead or mad… *evil laugh* it's evil and awesome. But remember, it is all a game, and Master Legend sure knows how to play it.
OH YEAH MASTER LEGEND! I feel like we didn't get enough info on him, I would love to see him as the center of the next book or at least get more backstory. Why is he this way? Why did he really start Caraval? What's his deal with Scarlett's family? I have many many MANY questions regarding this man and this book didn't touch them all.
Just like the beginning of the book… the ending had me a bit thrown off, because in a way, it feels like suicide is used as a plot device. I'm not saying who, what, when, or where… since it would be considered a spoiler, I'm just stating what I noticed. Other than that… that epilogue had me SCREAMING! She definitely left the book hanging with a big question and a lot of opportunity to get started on that second book.
Overall, it's a good book. I wouldn't recommend it if you're the type of reader that, if you can't stand the main character you won't finish the book, because Scarlett is a lot to deal with. BUT if you want to see how awesome the game of Caraval is, then go ahead!
Overall rating; 3.75 stars
Now, outside of the review, I decided to do something fun, different… and well, just something I had never done on my blog before! (This is really a result of boredom.)
I created a (fake) Caraval Make-up Palette!
Inspired by it's cover, ambiance, and characters, this 6-color palette is perfect for every bookish gal! (This is not for sale, this was made just for fun!)
Until next time!
Much love,