Today we're celebrating the release for the paperback edition of "The Last Star"!
This is the last installment of The 5th Wave trilogy, and my way of celebrating is by telling you more books to read!
If you're a fan of sci-fi + alien invasions, these books are perfect for you!
1. The 5th Wave (trilogy) by Rick Yancey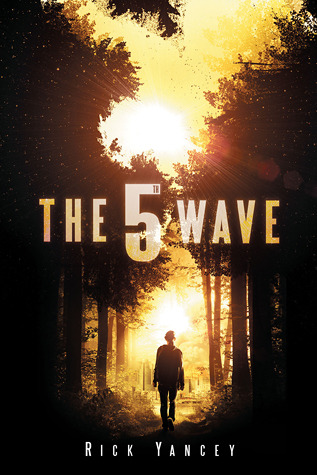 We're starting off with The 5th Wave! This is an obvious one, considering The Last Star is the last installment of the series, but if you're looking for aliens infiltrating Earth and the destroying humanity… this is the one you need!
"After the 1st wave, only darkness remains. After the 2nd, only the lucky escape. And after the 3rd, only the unlucky survive. After the 4th wave, only one rule applies: trust no one.
Now, it's the dawn of the 5th wave, and on a lonely stretch of highway, Cassie runs from Them. The beings who only look human, who roam the countryside killing anyone they see. Who have scattered Earth's last survivors. To stay alone is to stay alive, Cassie believes, until she meets Evan Walker. Beguiling and mysterious, Evan Walker may be Cassie's only hope for rescuing her brother-or even saving herself. But Cassie must choose: between trust and despair, between defiance and surrender, between life and death. To give up or to get up."
2. The Host by Stephenie Meyer

Twilight might not have the best reputation, but if you're a fan of aliens, this book is a must read!
"Melanie Stryder refuses to fade away. The earth has been invaded by a species that take over the minds of human hosts while leaving their bodies intact. Wanderer, the invading "soul" who has been given Melanie's body, didn't expect to find its former tenant refusing to relinquish possession of her mind.
As Melanie fills Wanderer's thoughts with visions of Jared, a human who still lives in hiding, Wanderer begins to yearn for a man she's never met. Reluctant allies, Wanderer and Melanie set off to search for the man they both love."
3. Ender's Game (The Ender Quintet)
by Orson Scott Card
An army of children against aliens? BRING IT ON! This is a 5-book series that you will not want to miss. (The first book was even turned into a kick-ass movie!)
"Andrew "Ender" Wiggin thinks he is playing computer simulated war games; he is, in fact, engaged in something far more desperate. The result of genetic experimentation, Ender may be the military genius Earth desperately needs in a war against an alien enemy seeking to destroy all human life. The only way to find out is to throw Ender into ever harsher training, to chip away and find the diamond inside, or destroy him utterly. Ender Wiggin is six years old when it begins. He will grow up fast.
But Ender is not the only result of the experiment. The war with the Buggers has been raging for a hundred years, and the quest for the perfect general has been underway almost as long. Ender's two older siblings, Peter and Valentine, are every bit as unusual as he is, but in very different ways. While Peter was too uncontrollably violent, Valentine very nearly lacks the capability for violence altogether. Neither was found suitable for the military's purpose. But they are driven by their jealousy of Ender, and by their inbred drive for power. Peter seeks to control the political process, to become a ruler. Valentine's abilities turn more toward the subtle control of the beliefs of commoner and elite alike, through powerfully convincing essays. Hiding their youth and identities behind the anonymity of the computer networks, these two begin working together to shape the destiny of Earth-an Earth that has no future at all if their brother Ender fails."
4. Armada by Ernest Cline

From the author of the amazing book "Ready Player One", comes a story with *wait for it*  ALIENSSSSS! I have not read this one myself, but if it's as good as Ready Player One, I am SOLD!
"Zack Lightman has spent his life dreaming. Dreaming that the real world could be a little more like the countless science-fiction books, movies, and videogames he's spent his life consuming. Dreaming that one day, some fantastic, world-altering event will shatter the monotony of his humdrum existence and whisk him off on some grand space-faring adventure.
But hey, there's nothing wrong with a little escapism, right? After all, Zack tells himself, he knows the difference between fantasy and reality. He knows that here in the real world, aimless teenage gamers with anger issues don't get chosen to save the universe.
And then he sees the flying saucer.
Even stranger, the alien ship he's staring at is straight out of the videogame he plays every night, a hugely popular online flight simulator called Armada—in which gamers just happen to be protecting the earth from alien invaders.
No, Zack hasn't lost his mind. As impossible as it seems, what he's seeing is all too real. And his skills—as well as those of millions of gamers across the world—are going to be needed to save the earth from what's about to befall it.
It's Zack's chance, at last, to play the hero. But even through the terror and exhilaration, he can't help thinking back to all those science-fiction stories he grew up with, and wondering: Doesn't something about this scenario seem a little…familiar?"
5. I Am Number Four (Lorien Legacies)
by Pittacus Lore

If you're looking for an intense and unpredictable scenario of an alien invasion, this is the series you're looking for!
"Nine of us came here. We look like you. We talk like you. We live among you. But we are not you. We can do things you dream of doing. We have powers you dream of having. We are stronger and faster than anything you have ever seen. We are the superheroes you worship in movies and comic books–but we are real.
Our plan was to grow, and train, and become strong, and become one, and fight them. But they found us and started hunting us first. Now all of us are running. Spending our lives in shadows, in places where no one would look, blending in. We have lived among you without you knowing.
But they know.
They caught Number One in Malaysia.
Number Two in England.
And Number Three in Kenya.
They killed them all.
I am Number Four.
I am next."
GIVEAWAY TIME!
If you're interested in winning The 5th Wave or a paperback copy of The Last Star, keep reading!
Enter for a chance to be one (1) grand prize winner and receive a set of The 5th Wave Collection in paperback, including The 5th Wave, The Infinite Sea, and The Last Star (ARV: $32.97), or to be one (1) of five (5) second place winners to receive The 5th Wave in paperback (ARV: $10.99 each).
Click here for the Rafflecopter Giveaway!
NO PURCHASE NECESSARY. Enter between 12:00 AM Eastern Time on May 23, 2017 and 12:00 AM on May 30, 2017.  Open to residents of the fifty United States and the District of Columbia who are 13 and older. Winners will be selected at random on or about June 2, 2017. Odds of winning depend on number of eligible entries received. Void where prohibited or restricted by law.