Are you a fan of fairytale retellings? If so, check out my review for Hunted!
I might be a bit obsessed with retellings in general, but trust me, expectations are HIGH when I pick one up! And for my luck, Hunted met all my expectations! I read this amazing book as part of our Instagram based book club, Social Book Club!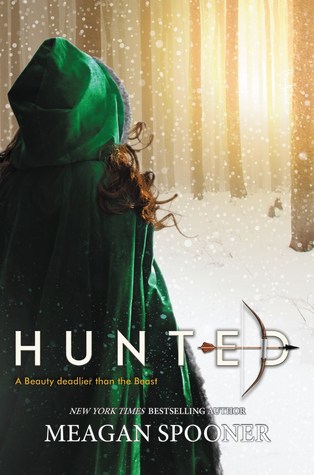 Hunted
by Meagan Spooner
384 Pages
Publication Date: March 14, 2017.
Goodreads Rating: 3.94 stars (6,406 Ratings)
My Rating: 4.5 stars (⋆ ⋆ ⋆ ⋆ ⋆)
Beauty knows the Beast's forest in her bones—and in her blood. Though she grew up with the city's highest aristocrats, far from her father's old lodge, she knows that the forest holds secrets and that her father is the only hunter who's ever come close to discovering them.

So when her father loses his fortune and moves Yeva and her sisters back to the outskirts of town, Yeva is secretly relieved. Out in the wilderness, there's no pressure to make idle chatter with vapid baronessas…or to submit to marrying a wealthy gentleman. But Yeva's father's misfortune may have cost him his mind, and when he goes missing in the woods, Yeva sets her sights on one prey: the creature he'd been obsessively tracking just before his disappearance.

Deaf to her sisters' protests, Yeva hunts this strange Beast back into his own territory—a cursed valley, a ruined castle, and a world of creatures that Yeva's only heard about in fairy tales. A world that can bring her ruin or salvation. Who will survive: the Beauty, or the Beast?
I know this is sold as a Beauty and the Beast retelling (because that's mainly what it is), but there's also Russian elements and stories incorporated and I loved it so much! It's definitely so much more than just a B&TB retelling.
The book follows the "format" of the original story, while it gives it an AMAZING new twist! Beauty wants to KILL the Beast! Will she do it? Will she succeed? Will they be together like every other retelling? This book had me doubting some things that I usually wouldn't be thinking about when reading a retelling… and I LOVED IT! Yes, keep me doubting! That means it's something fresh! We've also got a character playing Gaston (Solmir) and unlike the "original", this one is really nice and makes you root for him! Seriously, I never expected to want someone to find love sooooo freakin' bad!
Yeva lives a very comfortable life with her father and her sisters, until a trade goes wrong and her father loses everything. They move to the forest, to a cold, strange, and wild place. Yeva, as a hunter, is taking it better than her sisters… but will they survive?
Yeva's father is lost. There's talks of a Beast being near! Yeva wanders into the forest to hunt the Beast and get her father back.
And well… the rest is history. Because I ain't spoiling anything for you guys!
This is my favorite Beauty and the Beast retelling so far. This isn't a story where Belle is caught prisoner in a castle and wears big poofy dresses and dances with the Beast. This isn't a story where she falls in love and gets saved. No. The Beauty in this story is a hunter (and an excellent one!) and she must use her skills to beat the Beast.
The story barely has any romance, and whatever develops between the Beauty and the Beast, is done in a slow and believable way. I also loved the Beast mini-chapters, which gave the story a better feel of what was happening with the Beast and how things were developing on his side of the story.
The only reason I'm not giving this book 5 stars is because the ending was kinda sloppy, in my opinion, things get resolved too quick; BUT the book as a whole is amazing! I recommend it to all fans of Beauty and the Beast and/or retellings.
Overall Rating: 4.5 stars