Hey guys! This is a review that I've been wanting to do FOR MONTHS! But I kept putting it off because I just didn't know how to express my feelings toward this book! So… here is my half-assed attempt at explaining why I loved this book so much!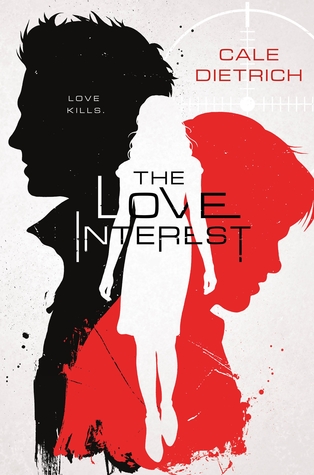 The Love Interest
by Cale Dietrich
377 Pages
Published: May 16th, 2017.
Goodreads Rating: 3.18 stars (2,926 Ratings)
My Rating: 4.25 stars (⋆ ⋆ ⋆⋆)
I'm actually VERY surprised to see this book have such a low rating! (I consider anything below 3.5 stars as "low", so… yeah, that's just my way of seeing collective ratings.)
Synopsis:
There is a secret organization that cultivates teenage spies. The agents are called Love Interests because getting close to people destined for great power means getting valuable secrets.
Caden is a Nice: the boy next door, sculpted to physical perfection. Dylan is a Bad: the brooding, dark-souled guy who is dangerously handsome. The girl they are competing for is important to the organization, and each boy will pursue her. Will she choose the Nice or the Bad?

Both Caden and Dylan are living in the outside world for the first time. They are well-trained and at the top of their games. They have to be—whoever the girl doesn't choose will die.

What the boys don't expect are feelings that are outside of their training. Feelings that could kill them both.
I'm writing this without knowing what to say… this book was so good, but it's also very flawed and I don't know how to tackle these things, but let's see how this goes!
This book is really different in the way that it plays around with the Young Adult book tropes. First of all, the setting feels like the prequel to a dystopian world. We have a love triangle. We have a bad boy, a nice guy, the "bland" girl that somehow has two guys fighting for her and now she's in the middle trying to choose… BUT it also has a M/M romance-friendship-romance going on. Yes, I know I said romance twice, but this book played with my damn feelings regarding that M/M situation…it felt like queer-baiting at first and then I was like "alright alright alright, it's happening" but I don't want to get into details so I'm just gonna leave it as that; but I do know some people were hurt while reading the book, because it DOES feel like there's some queer-baiting going on.
Back to the tropes. This book touches a lot of YA tropes but for ME, it's in a satirical way…(if that's the best way to put it?) like… I couldn't take them seriously, which is the main reason why I enjoyed them so much! The tropes are exaggerated and it feels like they are played around with in a mockery way. I LOVED IT!
My favorite thing about this book? The (satire) trope of love triangles is played perfectly! The love interests are part of a secret organization, where they must gather intel on important and potential important people in the world, from scientists to artists and even athletes!
Why isn't it a five star read? I was going through the whole book thinking… are we getting queer-baited? Is this gonna happen? WHY IS OUR BELOVED CADEN GETTING PLAYED LIKE THIS? Yeah… don't toy with my feelings like this. Don't hurt readers with queer-bait. (Although this gets better by the end… but people were hurt in the process.) Also…… *infinity of dots* the ending felt SO RUSHED! We could have gotten a sequel from those last few chapters. I would have loved to see more of how they fight back but well… it is what it is.
Overall, I enjoyed the story A LOT! It's a refreshing and unique way to tackle these YA tropes we see, enjoy (and in my case, have also grown to hate).
Overall rating: 4.25 stars