I got the chance to read this book a month after it's release (in MAY!), but couldn't find the words to describe it until now! I read this as part of an online book club called Social Book Club! (Feel free to visit/join us via instagram!)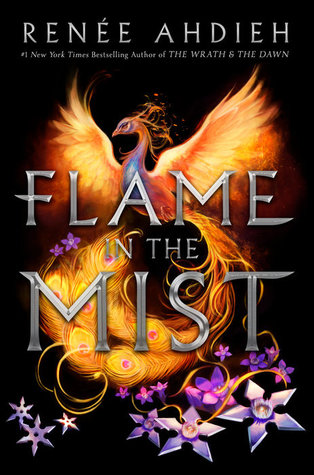 Flame in the Mist
by Renée Ahdieh
393 Pages
Published: May 16, 2017.
Goodreads Rating: 4/5 stars (9,955 Ratings)
My Rating: 4/5 stars (⋆ ⋆⋆ ⋆)
The only daughter of a prominent samurai, Mariko has always known she'd been raised for one purpose and one purpose only: to marry. Never mind her cunning, which rivals that of her twin brother, Kenshin, or her skills as an accomplished alchemist. Since Mariko was not born a boy, her fate was sealed the moment she drew her first breath.
So, at just seventeen years old, Mariko is sent to the imperial palace to meet her betrothed, a man she did not choose, for the very first time. But the journey is cut short when Mariko's convoy is viciously attacked by the Black Clan, a dangerous group of bandits who've been hired to kill Mariko before she reaches the palace.
The lone survivor, Mariko narrowly escapes to the woods, where she plots her revenge. Dressed as a peasant boy, she sets out to infiltrate the Black Clan and hunt down those responsible for the target on her back. Once she's within their ranks, though, Mariko finds for the first time she's appreciated for her intellect and abilities. She even finds herself falling in love—a love that will force her to question everything she's ever known about her family, her purpose, and her deepest desires.
This book was initially sold to me as a Mulan retelling. People were going crazy for the "Mulan" book! Sadly (or not so sadly actually…) this book is NOT a Mulan book. It's a book inspired by Mulan, and our main character cross-dresses to infiltrate an army (or in this case a clan), but that's where the similarities end. Mariko, unlike Mulan, is actually here for REVENGE *mwahahahaha*.
At first, I wasn't sure if this was the book for me. The first 100-ish pages were REAAAALLY slow. This is kinda normal for series because well… you ARE introducing us to a new story! So I minded my own business and kept reading right? And BAM! This book just kicks you and throws you to the floor with such force! Seriously. This book got powerful and went 0 to 100. It took it's time to develop the setting and it's characters, but once you're in there… you're in for a wild ride!
Mariko is on her way to meet her betrothed, when she's attacked by -what seems to be- the Black Clan. She's the only survivor of this attack, although her attackers believe she's dead. Mariko disguises herself as a man, and goes on a journey to find the Black Clan and join the ranks. She wants to know why the Black Clan tried to kill her. She wants to save her family's honor. She wants revenge.
Unlike other heroines in YA, Mariko is actually really smart. Don't get me wrong, I'm not saying other heroines aren't smart… It's just that Mariko is not the type of character that's clever but actually ends up making dumb decisions or lets her feelings mess things up. How do I know this? Easy. To be able to infiltrate a killer clan? You need to be smart, strong, and BALLSY. She's everything I wish I could be.
Now… the romance! Of course there's some romance in here! I won't get into details, but just know that it doesn't take away from the story nor from Mariko. It's the right amount of romance to leave you wanting more by the end of the book.
If the start wasn't soooo slow, this definitely would have been a 5 star read for me!
Overall Rating: 4.0 stars
Sequel News!
The highly anticipated sequel to Flame in the Mist–an addictive, sumptuous finale that will leave readers breathless from the bestselling author of The Wrath and the Dawn will release on May 1st, 2018!
After Okami is captured in the Jukai forest, Mariko has no choice–to rescue him, she must return to Inako and face the dangers that have been waiting for her in the Heian Castle. She tricks her brother, Kenshin, and betrothed, Raiden, into thinking she was being held by the Black Clan against her will, playing the part of the dutiful bride-to-be to infiltrate the emperor's ranks and uncover the truth behind the betrayal that almost left her dead. 
With the wedding plans already underway, Mariko pretends to be consumed with her upcoming nuptials, all the while using her royal standing to peel back the layers of lies and deception surrounding the imperial court. But each secret she unfurls gives way to the next, ensnaring Mariko and Okami in a political scheme that threatens their honor, their love and very the safety of the empire.