Hi guys! This might be a late post, considering we're in February already, but I wanted to share my ten most anticipated books of 2017! Noticed I said 10 but the title says 15? It's because, initially, this was meant to be a top 10 list, but there's so many amazing books coming out this year, that I couldn't drop it to just 10!
Surprisingly, all of these books – except one, that I know of – have elements that make them diverse. From marginalized authors, LBGTQ+ characters, PoC,  latinx representation, and more! 2017 is an amazing year for reading diversely!
Prepare your wallet because you will want to buy all of these amazing books!


1. Empress of a Thousand Skies
Release date: February 7

"A saga of vengeance, warfare, and the true meaning of legacy." plus a diverse cast? COUNT ME IT!
This one was just released, but I'm adding it to the list because I don't own it yet! Empress of a Thousand Skies is the debut novel of author Rhoda Belleza and I am very excited by this book! And can we talk about the gorgeous cover? PLEASE tell me you guys see the face on the moon too!
2. American Street
Release date: February 14
"On the corner of American Street and Joy Road, Fabiola Toussaint thought she would finally find une belle vie—a good life.
But after they leave Port-au-Prince, Haiti, Fabiola's mother is detained by U.S. immigration, leaving Fabiola to navigate her loud American cousins, Chantal, Donna, and Princess; the grittiness of Detroit's west side; a new school; and a surprising romance, all on her own."
This book is written by Ibi Zoboi, born in Haiti and also immigrated to the United States. I feel like her story is going to be a very powerful one, which is why I'm very excited to get my hands on this book.
3. The Education of Margot Sanchez
Release date: February 21
"Pretty in Pink comes to the South Bronx in this bold and romantic coming-of-age novel about dysfunctional families, good and bad choices, and finding the courage to question everything you ever thought you wanted—from debut author Lilliam Rivera."
I actually had the opportunity of reading an ARC of this book and I wrote a review right here. This is a 5 stars read for me; first because the author did an amazing job and second, because the main character is a puerto rican girl! The book feels authentic and the characters are very relateable.
4. The Hate U Give
Release date: February 28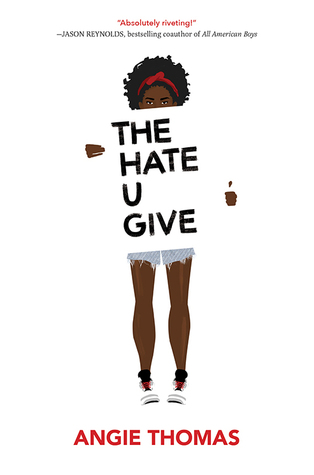 "Inspired by the Black Lives Matter movement, this is a powerful and gripping YA novel about one girl's struggle for justice."
Guys, I feel like this is going to be the most powerful book of 2017. I don't mean to diminish other books and authors, but the world NEEDS this book. An "own voices" book inspired by the Black Lives Matter movement?! The rights to this book were purchased a loooong time ago and it's being turned into a movie AND THE BOOK HASN'T BEEN RELEASED YET! That speaks volumes about how amazing this book will be. It's definitely my most anticipated release of ALL year.
5. The Inexplicable Logic of My Life
Release date: March 7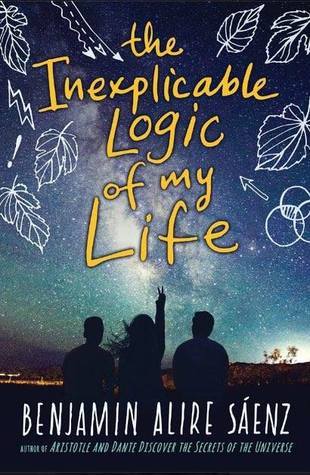 "Sal used to know his place with his adoptive gay father, their loving Mexican-American family, and his best friend, Samantha. But it's senior year, and suddenly Sal is throwing punches, questioning everything, and realizing he no longer knows himself. If Sal's not who he thought he was, who is he?
This humor-infused, warmly humane look at universal questions of belonging is a triumph."
I am all in for latinx authors, latinx rep in books and in this case… BOTH! I am very excited about this book. I feel like I'm questioning right now many things in my life, who I am, what I want to do… etc. and I feel like I will identify heavily with this book!
6. Queens of Geek
Release date: March 14
"When BFFs Charlie, Taylor and Jamie go to SupaCon, they know it's going to be a blast. What they don't expect is for it to change their lives forever."
This book is AMAZING! I read an eARC of this book and I am very anxious for this book to come out because I will be purchasing a physical copy. If you're a geek, love superheroes, youtubers, movies, and all of that scene, then this book is for you!
The cast is so diverse too! We have f/f romance, autism, anxiety, and many other things that we need to see portrayed more in books! The thing that called to me the most is the character that has anxiety. She talks about anxiety the way I feel it! I almost teared up because I would think I was crazy… but well… I'll leave those thoughts for my review – which I need to sit down and write – lol.
7. Strange the Dreamer
Release date: March 28
"The dream chooses the dreamer, not the other way around— and Lazlo Strange, war orphan and junior librarian, has always feared that his dream chose poorly. Since he was five years old he's been obsessed with the mythic lost city of Weep, but it would take someone bolder than he to cross half the world in search of it. Then a stunning opportunity presents itself, in the person of a hero called the Godslayer and a band of legendary warriors, and he has to seize his chance to lose his dream forever."
After "The Hate U Give" this is my second most anticipated book of 2017! I LOVED the Daughter of Smoke and Bones trilogy, it's one that I recommend to a lot of people because it deserves more love! Laini Taylor is amazingly talented with words, and the world needs more of her writing! So I am excited that we FINALLY get this book! It was supposed to come out in September 2016, but … stuff happens haha.
I think this is the only book that isn't really "diverse" – at least not that I know of – but Laini Taylor deserves the recognition she gets and there is no bad rep nor stereotypes in her books. She's an A+ author.
8. The Upside of Unrequited
Release date: April 11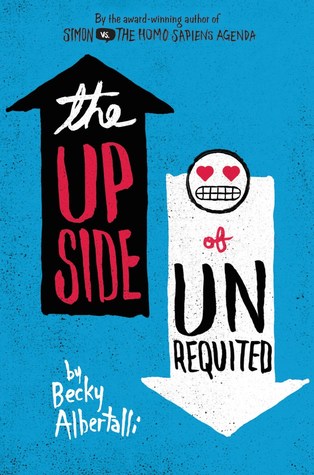 "Seventeen-year-old Molly Peskin-Suso knows all about unrequited love. No matter how many times her twin sister, Cassie, tells her to woman up, Molly can't stomach the idea of rejection. So she's careful. Fat girls always have to be careful."
Apparently the main character of this book knows a lot about rejection (having 26+ crushes LOL) so after reading that, plus the diversity of the cast, I was SOLD!
9. Girl Out of Water
Release date: May 2
"Anise Sawyer plans to spend every minute of summer with her friends: surfing, chowing down on fish tacos drizzled with wasabi balsamic vinegar, and throwing bonfires that blaze until dawn. But when a serious car wreck leaves her aunt, a single mother of three, with two broken legs, it forces Anise to say goodbye for the first time to Santa Cruz, the waves, her friends, and even a kindling romance, and fly with her dad to Nebraska for the entire summer."
This book is going to be SO SO SO SO SO SOOOOO GREAT! I just finished it last week, so I'll be writing a review for it soon. But oh my God… this is going to be a summer hit! It's the perfect summer contemporary book. From the diverse cast, the character development, and the authenticity of the relationships, problems, family and friendships. This is a 5 stars book for me, and I hope many of you pick it up too. (It's only $7 to pre-order on Amazon!)
10. Flame in the Mist
Release date: May 16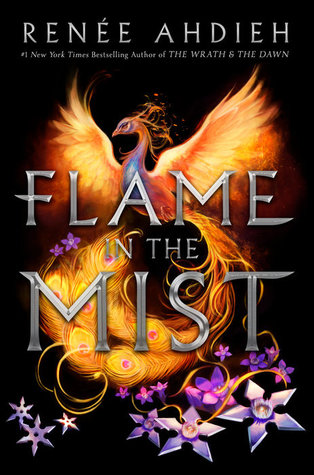 "The daughter of a prominent samurai, Mariko has long known her place—she may be an accomplished alchemist, whose cunning rivals that of her brother Kenshin, but because she is not a boy, her future has always been out of her hands.
Dressed as a peasant boy, Mariko sets out to infiltrate the ranks of the Black Clan, determined to track down the person responsible for the target on her back. But she's quickly captured and taken to the Black Clan's secret hideout, where she meets their leader, the rebel ronin Takeda Ranmaru, and his second-in-command, his best friend Okami. Still believing her to be a boy, Ranmaru and Okami eventually warm to Mariko, impressed by her intellect and ingenuity. As Mariko gets closer to the Black Clan, she uncovers a dark history of secrets, of betrayal and murder, which will force her to question everything she's ever known."
GUYS! THIS IS MULAN, OK?! Just read that synopsis and agree with me! (lol) I love Mulan, she's my favorite Disney Princess (SHE'S A PRINCESS, FIGHT ME!) and when I heard about this book, I just had to add it to my wishlist!
11. When Dimple Met Rishi
Release date: May 30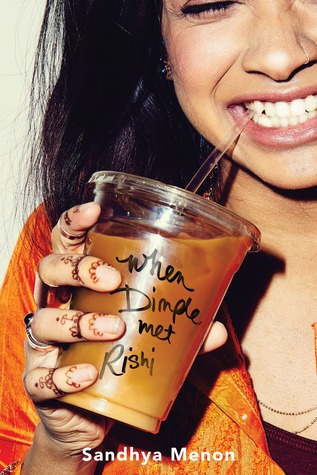 "A laugh-out-loud, heartfelt YA romantic comedy, told in alternating perspectives, about two Indian-American teens whose parents have arranged for them to be married."
If you guys read the synopsis of this book, you'll fall in love with it just like I did. Dimple is the girl that wants to get away from her family, because she's tired of hearing her mother talk about finding her the perfect husband. On the other hand, Rishi believes in family traditions – arranged marriages, and he's totally on board with making Dimple fall in love with him. This sounds diverse, intriguing, and adorable! I cannot wait to own this book! In fact… I think I'll go pre-order it right now.
12. The Gentleman's Guide to Vice and Virtue
Release date: June 20
"An unforgettable tale of two friends on their Grand Tour of 18th-century Europe who stumble upon a magical artifact that leads them from Paris to Venice in a dangerous manhunt, fighting pirates, highwaymen, and their feelings for each other along the way."
EUROPE, PIRATES, AND FRIENDS BECOMING MORE THAN FRIENDS?! YES PLEASE! I love the friends to lovers trope. Give me more of this! This book sounds hilarious and magnificent I would like to have it now please!
13. Wonder Woman – DC Icons Series
Release date: August 29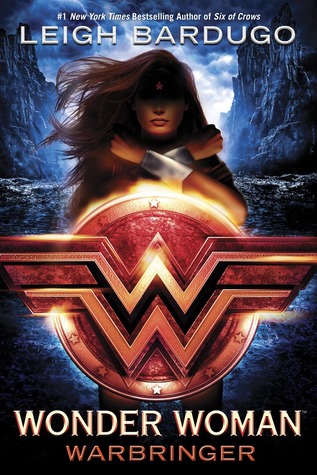 "Diana longs to prove herself to her legendary warrior sisters. But when the opportunity finally comes, she throws away her chance at glory and breaks Amazon law—risking exile—to save a mere mortal. Even worse, Alia Keralis is no ordinary girl and with this single brave act, Diana may have doomed the world."
Alia just wanted to escape her overprotective brother with a semester at sea. She doesn't know she is being hunted. When a bomb detonates aboard her ship, Alia is rescued by a mysterious girl of extraordinary strength and forced to confront a horrible truth: Alia is a Warbringer—a direct descendant of the infamous Helen of Troy, fated to bring about an age of bloodshed and misery.
Together, Diana and Alia will face an army of enemies—mortal and divine—determined to either destroy or possess the Warbringer. If they have any hope of saving both their worlds, they will have to stand side by side against the tide of war."
Guys… Leigh Bardugo is writing a book about Wonder Woman! Powerful women writing about powerful women? YES PLEASE! I'm not sure if this one fits the "diverse books" category I have going on in this post, but for me, it's different, new, and it sounds action packed. SO YES, BRING IT TO ME!!!!
14. They Both Die at the End
Release date: September 5
"On September 5, a little after midnight, Death-Cast calls Mateo Torrez and Rufus Emeterio to give them some bad news: they're going to die today. Mateo and Rufus are total strangers, but, for different reasons, they're both looking to make a new friend on their End Day. The good news is: there's an app for that. It's called the Last Friend, and through it, Rufus and Mateo are about to meet up for one last great adventure—an unforgettable day that will change both their lives forever."
I'm currently reading "History is All You Left Me" by Adam Silvera and I am LOVING IT! I just ordered his previous book "More Happy Than Not" and this one has been added to my wishlist. I've heard amazing this about this author and I will not pass an opportunity to support him. ♥ This book sounds AMAZING! Strangers meeting because they're both going to die? (lolwut) You caught me. I'm intrigued. Gimme that book NOW.
15. Warcross
Release date: October 3
"For the millions who log in every day, Warcross isn't just a game—it's a way of life. The obsession started ten years ago and its fan base now spans the globe, some eager to escape from reality and others hoping to make a profit. Struggling to make ends meet, teenage hacker Emika Chen works as a bounty hunter, tracking down players who bet on the game illegally. But the bounty hunting world is a competitive one, and survival has not been easy. Needing to make some quick cash, Emika takes a risk and hacks into the opening game of the international Warcross Championships—only to accidentally glitch herself into the action and become an overnight sensation."
Last, but not least… well… it's last on my list because it has the farthest release date but it is one of my most anticipated books too. Some of us play games as an escape, and omg… I've totally been at the point where a game felt like a way of life. 8-9 hours playing every day… yup. I was addicted. Anyway, I don't have the time to do that now, as much as I'd love to play an online game again, so reading about a game – Warcross – and a bounty hunter who glitched herself into the game sounds super techy and cool. (I sound lame saying that, right?) Anywayyyy, I'm sold on the synopsis and I'm anxiously waiting for a cover release on this one!
Well, these are my top 15 releases from 2017! Are any of these on your wishlist?
Any other books (preferably diverse) that I should be on the lookout for?