Hey everyone! I'm participating in my first Fantastic Flying Book Club book tour, where I had the chance to read an eARC of Lucky in Love! I am very excited to share my review with you guys!
Click here to see all of the amazing tour stops for Lucky in Love, which includes guest posts, interviews, reviews, and more!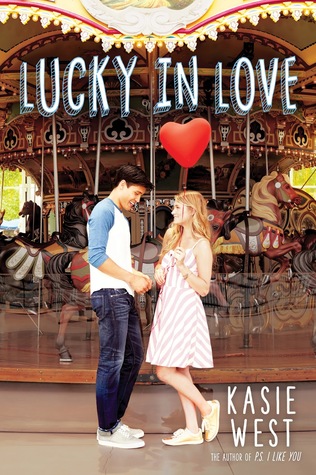 Lucky in Love
by Kasie West
333 Pages
Expected Publication: July 25, 2017.
Goodreads Rating: 3.94 stars (353 Ratings)
My Rating: 4.5 stars (⋆ ⋆ ⋆ ⋆ ⋆)
Amazon | Barnes & Noble | Book Depository | Kobo | iBooks
In this new contemporary from YA star Kasie West, a girl who wins the lottery learns that money can cause more problems than it solves, especially when love comes into the picture. 

Maddie doesn't believe in luck. She's all about hard work and planning ahead. But one night, on a whim, she buys a lottery ticket. And then, to her astonishment —

She wins!

In a flash, Maddie's life is unrecognizable. No more stressing about college scholarships. Suddenly, she's talking about renting a yacht. And being in the spotlight at school is fun… until rumors start flying, and random people ask her for loans. Now, Maddie isn't sure who she can trust.

Except for Seth Nguyen, her funny, charming coworker at the local zoo. Seth doesn't seem aware of Maddie's big news. And, for some reason, she doesn't want to tell him. But what will happen if he learns her secret?

With tons of humor and heart, Kasie West delivers a million-dollar tale of winning, losing, and falling in love.
Let me start by saying that this book was not what I expected, and I mean this in the best way possible!
I'm not a huge fan of cliché romances or love stories that are too "lovey-dovey" if that makes any sense… so you may be asking "WHY DID YOU PICK UP THIS BOOK THEN?". Well, the concept of a teenage girl winning the lottery sparked my interest because we ALL have planned of things we would do if we won the lottery, so why not read about a teen's experience? As a bonus, the story turned out to be amazing, with a minimum of clichés and a well developed romance that wasn't the main focus of the story!
I enjoy reading books with flawed characters, where we can see -as the book goes- their growth and development. This story is just that! Maddie is a girl that has spent all her life working hard to go to college and prepare for her future, but her life and her plans suddenly change when she wins THE LOTTERY! All of her money struggles magically disappear, she's suddenly popular, and gets everything she wants… or does she? As our story develops, Maddie realizes that money will not solve all of life's problems, in fact, money can CREATE some problems! You cannot trust everyone when you are a millionaire.
I wish I kept track of all the money Maddie blows up before coming to her senses. Maddie is too naive to know when people want her just for her money (including her family!), and popularity blinds her decisions most of the time.
I've noticed other reviews where people are taking stars off because Maddie recklessly spends A LOT of money, and because money is pretty much the main topic of the book and well… to be honest, it is a uncomfortable to see her be so reckless but I think this is what the author intended and it makes you get into the story even more, or at least… that was the case for me. If you're mad about a fictional character spending their money recklessly, then consider yourself invested in the story. (Which is a win for the author!)
I was annoyed. I was mad. I wanted to take the money away from her! There's so many amazing things you could do instead of throwing big parties and getting fancy cars… but well… Maddie IS a teen and she probably didn't know better at the time. So I won't be taking any stars off because of her recklessness. In fact, I believe that this is what made me get so invested in the story and what made me enjoy it so much! Teenagers learning from their mistakes? Completely normal. Winning the lottery? Not so much.
Overall, I really enjoyed this book and I would recommend it as a quick and fun summer read!
My rating; 4.5 stars
About the Author

"I write YA. I eat Junior Mints. Sometimes I go crazy and do both at the same time. My novels are: PIVOT POINT and its sequel SPLIT SECOND. And my contemporary novels: THE DISTANCE BETWEEN US, ON THE FENCE, THE FILL-IN BOYFRIEND, PS I LIKE YOU, and BY YOUR SIDE. My agent is the talented and funny Michelle Wolfson."
 Website | Goodreads | Twitter | Facebook
Before you go, check out our tour giveaway for one (1) ARC of "Lucky in Love"!
Runs through July 31 – US only
Follow the tour for more chances to win
Please read Rules & Regs in Rafflecopter